The wires & cables have a wide range of application for domestic household applications, machine tools, appliances, control panels, plant & machinery, control panels, industries of every nature and Real Estate of all kind.
These wires are manufactured using superior quality Copper and are in compliance with national quality standards. The sheathing is provided with a specially formulated PVC compound to facilitate not only ease in stripping but also to withstand all kinds of mechanical abrasion while in use.
These multi core flexible cables are used for wiring in control panels, machines and various electrical installations in dry and damp interiors especially under typical industrial environmental conditions.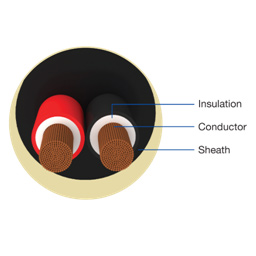 MULTICORE FLEXIBLEPVC INSULATED ROUND CABLES
In a market scenario where people look for good quality multipurpose products, cables don't stand apart. That is precisely why Multicore Round Cables are much in demand today. SANFLEX cable, keeping our commitment to customers in top priority has also ventured into the production of these high-utility cables. Designed to power appliances or instruments like computers, communications, instrumentation, sound control, domestic industrial computers, security systems, audio and data transmission, these cables come in a diverse range and variety. They are competent enough to protect signal constancy by reducing hum, noise, and crosstalk. Proved to be highly efficient in power and control applications, SANFLEX Multicore Flexible Round Cables have every reason to stay up in consumer preferences across India.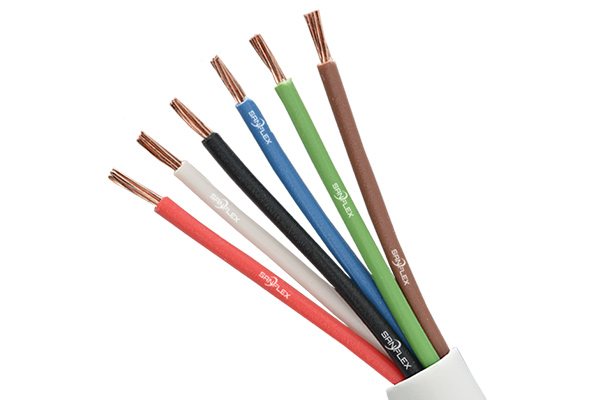 Marking: The cables are printed with generic marking 'SANFLEX'.
Colors: Black and Grey. Any other colors on specific request can also be supplied.
Packing:90 Meters or 100 Meters (approx. 110 yards) pack in protective packs.
Higher safety factors and compact construction
Uniform insulation cuts the chance of short circuit making it the safest wire
Low heat generation ensuring safety and enhanced life of insulation
Lowerconductor resistance values, resulting in recurrent "SAVING ELECTRICITY"
"Step Out from the Old to the New"

Note: Higher sizes of nominal cross-sectional area of conductor are also available on request. Any colours on specific request can be supplied. In case of multicore cable, the insulated core is laid up to from the core assembly. The inner core is coded with the numbers for easy identification as per national coding practices.

Multi Core Flexible Cables – IS 694:2010 Voltage grade UP to and Including 1100 V.
Nominal Area of Conductor

(Sq. mm.)

Number/ Nom. Dia. of Cables

(No./dia. mm)

Nominal Thickness of Insulation

(mm.)

Nominal Thickness of Sheath
Approximate Overall Diameter
Current Rating

(Amp.)

2 Core (mm.)
3 Core (mm.)
4 Core (mm.)
2 Core (mm.)
3 Core (mm.)
4 Core (mm.)
0.5
16 / 0.20
0.6
0.9
0.9
0.9
6.2
6.60
7.2
4
0.75
24 / 0.20
0.6
0.9
0.9
0.9
6.8
7.2
7.9
7
1
14 / 0.30
0.6
0.9
0.9
0.9
7.0
7.5
8.1
12
1.5
22 / 0.30
0.6
0.9
0.9
1.0
7.6
8.1
9.0
15
2.5
36 / 0.30
0.6
1.0
1.0
1.0
9.0
9.6
10.5
20
4
56/0.30
0.8
1.0
1.0
1.0
10.6
11.3
12.4
27
6
84/0.30
0.8
1.1
1.1
1.4
12.6
13.4
15.2
35
10
140/0.30 80/0.40
1.0
1.4
1.4
1.4
16.0
17
18.8
46