FR (FLAME RETARDANT) PVC INSULATED WIRES & CABLES
Flame Retardant Cables are made of electrolytic grade, bright plain annealed copper conductor, as per IS: 8130-1984. These cables are suitable for all industrial & domestic wiring application.
The cables have a high oxygen and temperature index and are insulated with a Flame Retardant – FR PVC compound, giving it additional safety. The cables have twin coating giving it superior insulation. Further, the wires have a uniform diameter and are available in standard length of 90 meters.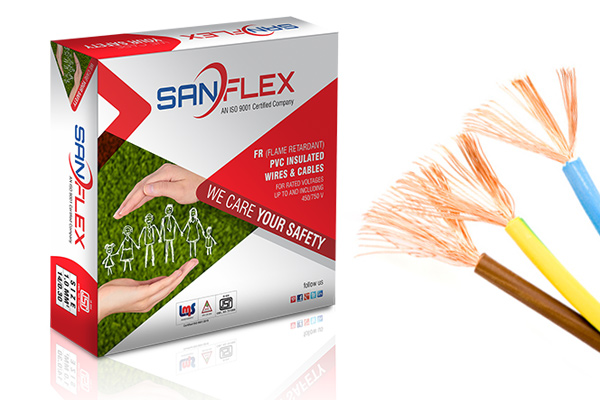 FR (FLAME RETARDANT) PVC Insulated Single Core Unsheathed Copper Wire (FOR RATED VOLTAGES UP TO AND INCLUDING 450/750 V)
Conductor: The conductors, drawn from bright electrolytic grade copper are annealed and bunched together.
Insulation: The bunched conductors are insulated with specially formulated FR PVC compound with a high insulation resistance value. The insulation process is carried out on high-speed extrusion lines, which ensures high accuracy and consistency in performance. Flame retardant properties enable the cable to withstand overloads. The insulation is resistant to boiling water, steam and vapours.
Marking: The cables are printed with generic marking 'SANFLEX'.
Colors: Red, Yellow, Blue, Black, Green and Grey. Any other colors on specific request can also be supplied.
Packing: 90 Meters (approx. 100 yards) pack in protective cartons.
Cable Design Parameters
Nominal Area of Conductor

(Sq. mm.)

Number/ Nom. Dia. of Cables                                         

(No./dia. mm)

Nominal Insulation Thickness   

(mm)

Nominal Overall Diameter

(mm)

Current Carrying Capacity

(Amp.)

D.C. Resistance (Max.) at 20°C

Ohm/Km

Casing
Concealed
0.5
16/.20
0.6
2.4
5
4
39
0.75
24/.20
0.6
2.8
8
7
26
1
14/.30
0.6
3
12
11
19.5
1.5
22/.30
0.6
3.4
16
13
13.3
2.5
36/.30
0.7
4.1
22
18
7.98
4
56/.30
0.8
4.8
29
24
4.95